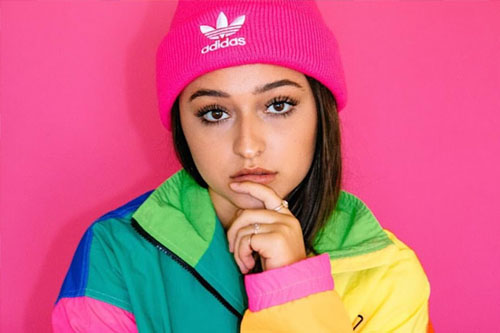 GM: Your new film "The Legend of Hallowaiian" just came out, what can you tell us about it?
Teilor: I am absolutely in love with how it turned out! I hope all of you guys who get the chance to see it, love it!
GM: What as your first thoughts when you read the script?
Teilor: I was really happy to be apart of something that shares my culture and where I am from
GM: Since this is your first animation film and you know what it's like to do one, would you ever do another?
Teilor: Yes, I would love to! It was such a amazing experience
GM: You also have another film coming out next year called "The Dawn", Can you tell us anything about your character?
Teilor: I can't say much but I play the flashbacks
GM: What type of roles would you like to play next?
Teilor: Since I have moved here to LA, I found a love for comedy. It is definitely apart of a role I hope to play soon
GM: Who would be your dream co-star?
Teilor: This is so hard because I have so many! I love the show The Fosters and I love the relationship between Maia Mitchell and Cierra Ramirez so those are two I would love to work with
GM: We have to ask this since everyone keeps wanting to know, will you be in H50 this season?
Teilor: I'm not sure…I guess you are gonna have to wait and see
GM: You're about to turn 17. How are you planning to celebrate your birthday?
Teilor: I'm not exactly sure yet. I have some things in mind but haven't decided
Q: Would you do video chats with fans on their birthdays?
Teilor: That is definitely something I would love to do!
Q: How are you not scared to audition for parts? I want to be an actress but it seems scary.
Teilor: I think you just have to be confident. If you believe in yourself and know that the right role is coming, you won't be nervous. Just don't ever give up and give it your all and that's all you can do
Q: Do you know what and where you are going to study?
Teilor: I think  this question is about college and I am not sure yet. I have some things that interest me but we will see
Q: Will Grace ever be kidnapped in season 9 or worse?
Teilor: Or worse..uh oh! I guess your gonna have to watch
Q: Your skin is gorgeous, what face wash do you use?
Teilor: I use the face wash from Rodan and Fields
Q: How is your relationship with the cast of H50 and what is your favorite moment on set?
Teilor: I love everyone apart of that show and I am so grateful to be apart of it. I have so many amazing memories but I think my favorite has to be the first day. Everyone took me in as family and it is a day  I will never forget
Q: If you had superpowers, what would it be?
Teilor: This is such a hard question because I want them all! Haha but I think I would have to go with invisibility because it would be awesome!
Q: What is one message you'd give to your fans?
Teilor: My message would be to never stop being you and go after your dreams! No dream is ever too big and if you truly believe in something, it will happen. You need to give 110% and make sure you stay true to yourself along the way!
Q: What is the most embarrassing thing that happened to you on set of H50 and who saw it?
Teilor: The most embarrassing thing I can think of right now was definitely the Halloween episode where I got caught at the party. I had the flu that week and so I was really sick and throwing up in between takes. It was not a good time haha..but it is definitely a story to tell now
Photos: Bea Oyster
Interview: Grubbers Magazine