FAN OF THE MONTH IS: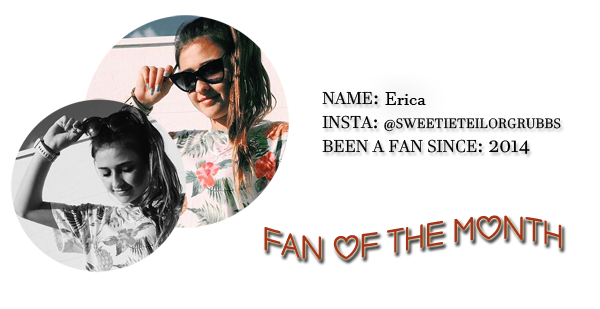 I decided to pick Erica cause not only she puts a lot of work into her page/edits but she also had an amazing story on why she became a fan of Teilor. (Which you can read below) Make sure to check out her page <3
SweetieTeilorGrubbs

"Teilor is my favourite, because when I first started watching the show, (I was about 11) since in Spain the show was aired years later, when I saw her (little tei) I thought she was really cute and I just loved her character so much even I'm not sure why. When I found out she was my age and she had ig I made my fanpage. I just admire her so much cause she's my age and she's what I always wanted to be, an actress. That was when she became my idol and role to follow. I had the privilege of being one of her first fanpages and when she followed and liked it felt really good. Watch her grow up as I did made me like her even more. Plus everything she does in Hawaii (cheer,adventures,events to help others,etc) and her friends are really kind to my fanpage. I also wanted to thank her because thanks to finding about her I improved my English soooo much and I've learned a lot. I would never change anything that's ever happened to me and the fanpage. I really love her <3"